Here are some songs I have composed over the last 30 odd years and only recently recorded digitally.  Most had been originally recorded on an old Tascam 4 track together with my good friend, Jon Adamberry.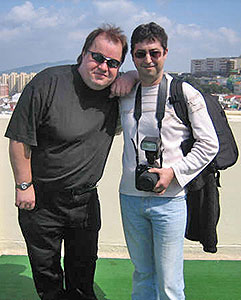 Equipment Used: Ibanez guitars & effects, Yamaha guitars, Marshall Amps, Yamaha Keyboards, Roland Drum Synths.
All tracks copyrighted to G. Linares except "Adam & Eve" whose copyright is held by Jon Adamberry.
I recorded "Adam & Eve" as a Xmas present for Jon.
If you want to use any of the songs on your projects please contact me.
If the player does not start automatically just click on the play button on the left. You can also select a particular song by clicking on it.
[Photo]  That's me together with Steve Rothery, Lead guitarist from Marillion, one of my sources of inspiration.